Team Coaching! We should expect all of our managers to have the skills for facilitating engagement and driving innovation among their people. So, let's expect them to be coaches.
A lot is written and a LOT of people call themselves business coaches, so it is not like we do not have those skillsets readily available and pretty well-known in our business community. At the same time, so many workers are dis-engaged, un-involved and demotivated. It is pretty evident that coaching has not reached the supervisors and managers who are directly involved in getting things done. We know that coaching can change behavior and that it can work to better involve people in performance improvement or in their understanding of and alignment to goals and objectives.
It seems to me that more supervisors should do more coaching or be better coaches, right?
Why can't we add coaching skills to their general skillsets, since the impacts are needed, right?
So much around coaching seems to be around visions of how things should be and the subsequent playing with ideas about how to implement new behaviors or to change those paths we are on. The key in coaching and individual is to generate a better sense of perceptual reality to relate toward shared goals and desired outcomes.
It would seem that one goal of leadership might be to generate an understanding of perceived and actual issues underlying performance problems and to generate some group involvement in addressing and solving those issues. Involvement is key simply because,
"Nobody ever washes a rental car."
If people feel a sense of ownership, they will pay more attention and care about things. If they have no active involvement and feel that things are being done to them, they will not feel ownership. Doing things TO people invariably generate some level of resistance; in a workgroup with an existing low level of trust and rapport, it will tend to generate active resistance and pushback. We see this in the Gallup data about US workers where 17% of workers are actively disengaged — they are uninvolved in their workplaces and not motivated to perform at reasonable levels.
Team Coaching involves stopping long enough to generate a conversation around awareness of those issues and opportunities, understanding that the view from the front is different than the view at the back. Stopping the pushing and pulling of the wagon can involve taking a little time to look around and probably change perspectives. What, in the illustration below, might change if people would only consider possibilities for doing something differently?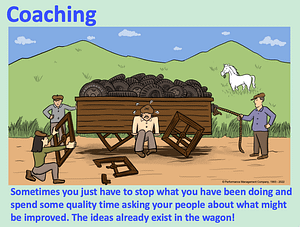 Check out our Stupidly Simple Square Wheels Facilitation Toolkit by clicking on the image above. We offer some really simple tools for actively involving people in workplace improvement. We will guarantee that it works seamlessly and easily.
And if you are interested in working with me to develop a package of communications tools to allow supervisors to more easily engage with their people in remote workplace situations, check out our simple Spring Forward Monday toolkit of images or talk with me about putting together some tools for your use with your people. I am interested in working with a few colleagues to package some of these simple tools.

I am open to helping a few clients co-develop some tools for both onsite and remote work teams as we work to refresh our materials and build some new toolkits,
—
For the FUN of It!
Dr. Scott Simmerman is a designer of team building games and organization improvement tools.
Managing Partner of Performance Management Company since 1984, he is an experienced presenter and consultant who is trying to retire!! He now lives in Cuenca, Ecuador.
You can reach Scott at scott@squarewheels.com

Learn more about Scott at his LinkedIn site.
Square Wheels® is a registered trademark of Performance Management Company
Spring Forward Monday® is a registered trademark of Performance Management Company
Square Wheels images are copyrighted by Performance Management Company